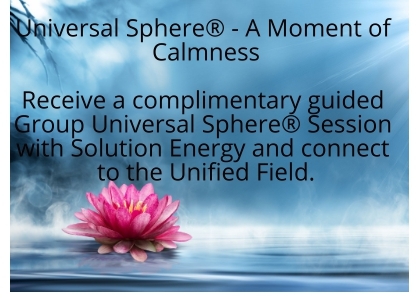 A MOMENT OF CALMNESS–UNIVERSAL SPHERE®
A Moment of Calmness is a Universal Sphere® guided group experience by Elizabeth, via Zoom, where you will have the opportunity to feel, sense, and experience the energies of the Universal Sphere® and connect with the unified field. You will also have the opportunity to receive a few Universal Spheres®, including one with your own intention to access high vibrational Solution Energy to a personal situation to support a shift or change for yourself.

These sessions are complimentary and you are welcome to attend as often as you like. It is a great opportunity for you to come and learn what the Universal Sphere® is about, to experience a Universal Sphere®, and to see how the energies resonate with you. It is a great opportunity to experience an uplifting of energies to bring you into a moment of calmness or maybe even elevate an already great state of calmness.

These sessions are also providing an opportunity for you to consciously, through your awareness, to journey into the Unified Field, maybe even for the first time, to re-connect with that state of calmness or peacefulness your Soul once knew. It is a great way to start off a week or decompress from a stressful day.

The schedule for October is as follows:

Sunday mornings at 11:00 a.m. MDT on October 10th and 31, 2021.


Registration Link for October 10, 2021


Registration Link for October 31, 2021